Barcelona is the first European Capital of Democracy. We are open for new cities!
About the Initiative
The European Capital of Democracy Initiative has built a strong network of Cities fostering participation. Together with citizens, politicians, and institutions we are improving our democracies.
From the 13 frontrunners of democratic practice in the ECoD City Network (Antwerp, Barcelona, Bologna, Braga, Burgos, Brussels, Cascais, Linz, Metz, Opole, Sarajevo, Rzeszow, and Valongo), Barcelona has been selected as the European Capital of Democracy 2023/24.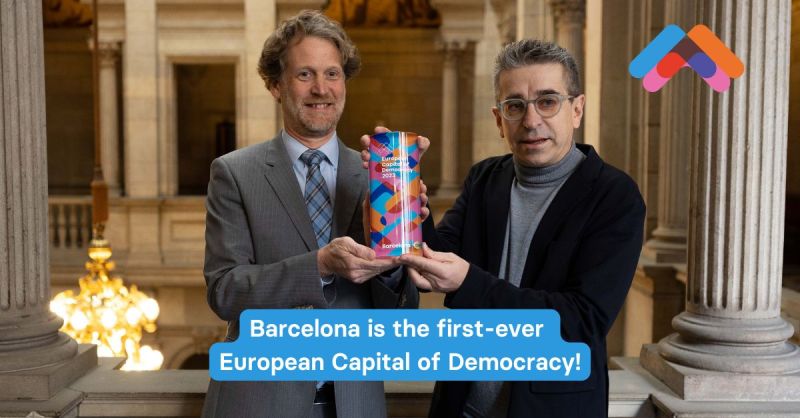 Citizens are invited to contribute
Democracy is our safest bet to protect our planet, restore peace, and secure a safe and prosperous future for us and our children. Become a Citizens' Juror now and play a crucial role in strengthening and securing Europe's democratic future!
Join us Building the European Capital of Democracy
Contributors
---
Become a part of the European Capital of Democracy Programme Year.
Supporters
---
Corporations, Foundations, and Organisations can build bridges for democratic innovation.
Citizens
---
Your opportunity to play a key role in developing new forms of democratic practice.
February 2023
2nd ECoD Call open
April 2023
Declaration of Intent Phase ends – Interested Cities confirm their participation
June 2023
Applicant Cities complete their submissions
September/October 2023
Experts' Jury evaluates submissions
November 2023
Experts' Jury presents the Shortlist of Nominee Cities
December 2023
Citizens' Jury selects the European Capital of Democracy 2024/25
December 2023
2nd European Capital of Democracy is announced
January – August 2024
The Programme Year 2024/25 is prepared, coordinated by a Steering Board
September 2024
Opening ceremony of the European Capital of Democracy 2024/25
Stay up to date
Please join us to receive regular updates on ECoD.