"Faced with the Russian aggression against Ukraine, we should remind ourselves that the battle for democracy is a battle for peace at the same time.

Now more than ever, we believe we should speak up and stand up for democracy together. The future of peace and democracy is in our hands and we hope you will join us."

Helfried Carl, Founder of European Capital of Democracy, March 2022
Stand with us
Efforts to undermine European democracy have been underway for some time – and it is now literally under attack. Each of us has a responsibility to strengthen democracy in our hometowns and across Europe. Taking a stand for democracy, and committing long-term to its future, has never been more important.
We are asking people from all over Europe to share why they are standing up for European democracy so that we can be inspired to take action and show our democratic solidarity at this crucial time.
Join the conversation
Share why you are standing up for European democracy by completing this form and posting your statement on social media using the hashtags #StandUpForDemocracy and #ECoD.
[mememe nocarousel="0″ random="0″ autoplay="0″ template="0″ tags="" limit="0″]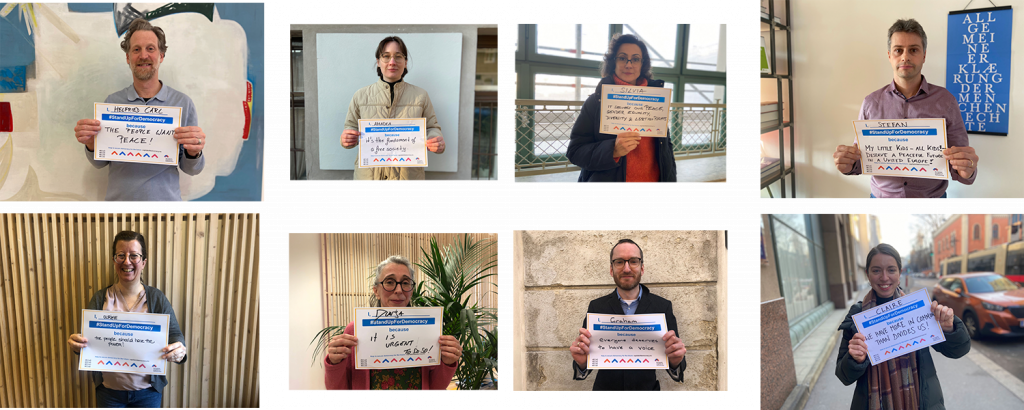 Your answers will be featured in our gallery and on social media and will show your commitment to protecting and strengthening our democracy.
Let's take a stand for European democracy together.
What you can do to help Ukraine
If you are looking for practical ways to support, we've pulled together a list of resources for you here.
Get involved with the European Capital of Democracy
Beginning this year, a different city will be annually designated as the European Capital of Democracy by a jury of 10,000 European citizens. The winning city will host a year-long programme of exciting events, festivals and activities designed to improve and strengthen democracy, with citizens' participation at the heart.